Why is Romney silent on immigration? Because of his campaign adviser, Kris Kobach
While pandering to the ultra conservative masses during the Republican primaries, Mitt Romney took the political gamble of naming Kris Kobach his campaign adviser on immigration matters. If political trackers believe there's a strong chance that with less than 30% of the Hispanic vote Romney will lose the general election, envision it going below 15%. With extremists like Kobach on your campaign after the Supreme Court already struck down the Arizona anti-immigrant SB 1070 law, it is clear now why Romney is in a political strait jacket when it comes to immigration.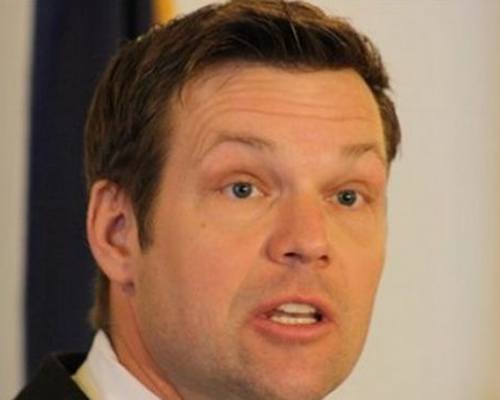 Kobach is a lawyer for the anti-immigrant organization, Immigration Reform Law Institute (IRLI), which is the legal arm of the Federation for American Immigration Reform (FAIR). Both of these organizations were founded by the white nationalist, John Tanton, who's work was a major catalyst for the anti-immigrant movement with unapologetic and widely written racist views. His organization, FAIR, is known to have solicited and received money from the Pioneer Fund, a foundation that finances pseudo-scientific ventures attempting to prove the genetic superiority of white, European-descended peoples.
Kobach took the lead role in drafting parts of Arizona's sb1070 and Alabama's HB 56. As a 2004 congressional candidate, Kobach received campaign contributions from John Tanton's wife's US Immigration Reform PAC and former Colorado Rep. Tom Tancredo's Team America PAC. Not only is he the chief adviser behind Romney's "Self Deportation" policy, Kobach is also leading the charge for changing Birthright Citizenship – the 14th Ammendment of the Constitution. He wants to change the Constitution so that Immigrant Children will NO LONGER be Citizens. Instead he wants them to be children with NO COUNTRY as has happened in Germany when they changed their Birth Right Citizenship laws.
Kobach is advocating the reduction of Legal Immigration. He's pushed to reduce the number of LEGAL Immigrants from Latino countries and other countries deemed not worthy. He has also written in support of South Africa's 1990 apartheid policy.
These are just a few of the many topics Romney will no doubt be asked to address before his campaign is over. When the lights are shown on this affiliation, it will be interesting to see if the Latin American vote will sink to the numbers of African Americans supporting Romney this election cycle.
Immigration Blog & News
Although it is common these days to hear in the media and in political discourse the idea that immigration harms the US economy and reduces wages and job opportunities for native-born workers ...

Foreign nationals possessing extraordinary ability in their field of expertise may be eligible for an employment-based, first preference visa.