ICE Memo Formalizes the Importance of Parent-Child Relationships in Immigration Enforcement and Deportation Proceedings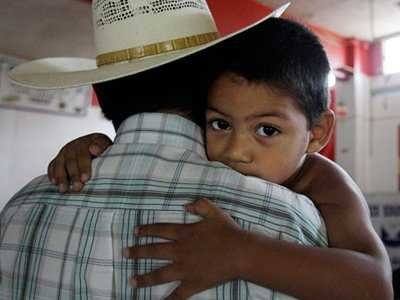 Associated Press
In a move that finally incorporates common sense into immigration enforcement procedures, the Immigration and Customs Enforcement Agency (ICE) released a memo on August 23, 2013, outlining how it intends to protect parental rights during apprehension and deportation activities.
The policy directive is aimed at protecting three categories of parents: (1) those who are primary caregivers to minor children without regard to the child's citizenship, (2) parents and legal guardians who have a direct interest in family court proceedings or child welfare proceedings in the United States, and (3) parents or legal guardians whose minor children are physically present in the United States and are U.S. citizens or legal permanent residents (green card holders).The protection of parental rights is mainly facilitated by a parental rights coordinator who will train field officers on policies and procedures that minimally interfere with such rights.Individual field offices will designate points of contact (POC) for parental rights.These POCs will receive and respond to public inquiries related to parental rights pertaining to the aforementioned three categories of parents.These inquiries can be submitted by just about anyone, including: detained or non-detained aliens, their family members, attorneys or representatives, advocacy groups, state and local family courts, and child welfare service agencies.Contact information for POCs will be posted in multiple languages.POCs will help the parental rights coordinator implement the parental rights directive at a grassroots level.
Encouraging as these personnel changes may be, the substantive policy reforms are far more exciting.Reforms can be broken down into seven categories: (1) prosecutorial discretion, (2) identification, (3) initial placement and subsequent transfers, (4) participation in family court or child welfare proceedings, (5) visitation, (6) coordination of care or travel of minor children pending removal of parent, and (7) facilitation of return.
Prosecutorial Discretion
Field Office Directors shall consider all relevant factors when determining whether to proceed against a parent with minor children.New policy dictates that prosecutorial discretion is to be exercised as early as possible, though it may be exercised at any stage of enforcement.
Identification
ICE may receive information identifying an individual as a parent or legal guardian of a minor child at any time during arrest, processing, or detention.If such information is credible, it will prompt field directors to reevaluate custody determinations.Information that someone is a parent to a minor child will also be entered into a computer database.
Initial Placement and Subsequent Transfers
ICE will try to place an apprehended or detained alien parent in a facility that is close to the alien's children, family court proceeding, or child welfare proceeding.ICE will refrain from making transfers outside this area unless necessary.
Participation in family court or child welfare proceedings
A detained alien parent or guardian may be able to make an in-person appearance at a family court or child welfare proceeding if: (a) presence is required by the court or agency, (b) the alien parent or his/her attorney submits a request to ICE with reasonable notice, (c) the alien parent or legal representative produces documentation of the proceeding, (d) the proceeding is within a reasonable distance of the detention facility, (e) transportation of the alien parent would not be unduly burdensome on ICE, and (f) such transportation does not present a security concern.
A detained alien parent or guardian may be able to participate in a family court or child welfare proceeding by video or telephone if appearance is required by court or agency but in-person appearance is not practicable due to distance or safety concerns.
Visitation
If a detained parent or guardian, or his/her family member, or legal representative, produces documentation from a court or agency requiring the detained parent to visit his/her minor child in order to retain or regain custody of the minor child, then, to the extent practicable, ICE shall facilitate the required visitation subject to safety concerns and facility constraints.Video or telephone visitation may be substituted as needed and permitted.
Coordination of Care or Travel of Minor Children Pending Removal of Parent
For detained parents subject to a final order of removal, ICE shall accommodate, to the extent practicable, that parent's efforts to make provisions for his/her minor children.Such provisions may include an attempt to arrange guardianship in the U.S. or to obtain travel documents for the children to accompany the parent to the country of removal.Facilitation may take the form of access to certain family members, to legal counsel, and to consulates in order to execute necessary documents.
Facilitation of Return
On a case-by-case basis, taking security concerns into account, ICE may facilitate the return of a lawfully removed alien to the United States for the sole purpose of participating in a termination of parental rights proceeding.Such an alien (or his/her legal representative or family member) must provide evidence to ICE that a court or agency requires the removed alien to be physically present at the proceeding.Parent aliens who are allowed to return must acknowledge in writing that they are subject to certain safeguards, such as monitoring and reporting.The parent alien will be responsible for all transportation costs.Such a return visit does not change the parent alien's status whatsoever and the parent must leave the U.S. at the conclusion of proceedings.
Conclusion
This policy is a welcome change from the seemingly overt hostility of ICE operations.It implicitly acknowledges that the separation of parent and child during immigration proceedings is difficult, trauma-filled, and often inhumane.Though not a perfect solution, the policy change is a small step in opening channels of communication and increasing transparency for a highly secretive federal agency.If you know of a parent with minor children who is currently in immigration detention, an MJ Law attorney may be able to help that parent get the most out of the recent policy change via agency advocacy with an ICE field office or agent.
Immigration Blog & News
Although it is common these days to hear in the media and in political discourse the idea that immigration harms the US economy and reduces wages and job opportunities for native-born workers ...

Foreign nationals possessing extraordinary ability in their field of expertise may be eligible for an employment-based, first preference visa.