Forma I-601A: Perdón migratorio provisional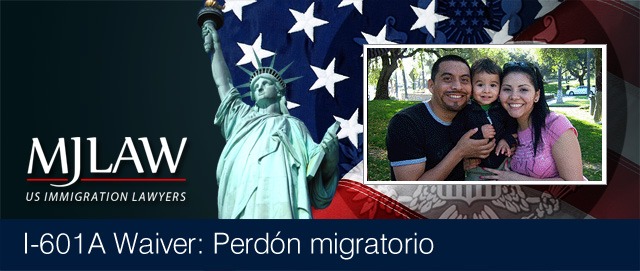 El perdón migratorio I-601A fue creado por la administración del Presidente Obama el 4 de Marzo de 2013. El propósito de este perdón es acortar el tiempo que tarda un solicitante de visa de inmigrante, fuera de los Estados Unidos y lejos de su familia mientras aguardan la decisión de su caso.
El perdón migratorio para esta visa de inmigrante aplica en casos donde el único delito del beneficiario es sólo haber entrado ilegalmente a los Estados Unidos y permanecido más de 180 días viviendo ilegalmente dentro del país.
Para calificar para un perdón migratorio I-601A:
1.El aplicante debe tener 17 años de edad o más.
2.Debe tener una petición I-130 aprobada y que le de derecho a aplicar inmediatamente por una visa de inmigrante.
3.Demostrar que si se no le dan la visa, le causaría un sufrimiento extremo a su cónyuge o a sus padres (que sean ciudadanos Americanos) y estar actualmente viviendo dentro de los Estados Unidos.
El sufrimiento normal que toda familia tendría por la separación no se considera un sufrimiento extremo.
Los sufrimientos extremos que el gobiernio considera, normalmente deben incluir problemas emocionales y/o mentales, financieros, de salud y problemas médicos que sufrirían sus familiares directos. El sufrimiento extremo es un estándard bastante elevado, pero no siempre debe ser el máximo para efectos de las leyes de inmigración.
El aplicante que busque ser admitido legalmente a los Estados Unidos usando este perdón migratorio, debe demostrar que su familia sufriría enormemente si son separados por 3 o más años y que su familia no lo puede acompañar a su país de origen para esperar una decisión en su caso legal. El aplicante debe demostrar que su ausencia y/o separación le causará graves problemas a su familia, aún si se mudaran a otro país.
En MJ Law, los Abogados de Inmigración están están aceptando clientes para peticiones de perdón migratorio I-601A para aquellos que califiquen. Cuentan con oficinas en San José, San Francisco, San Mateo y Pasadena, California para servir mejor a la comunidad Hispana.
Immigration Blog & News
Although it is common these days to hear in the media and in political discourse the idea that immigration harms the US economy and reduces wages and job opportunities for native-born workers ...

Foreign nationals possessing extraordinary ability in their field of expertise may be eligible for an employment-based, first preference visa.