Fiscal Year 2016 H1-B Filing Date is Approaching!
This notice is intended to alert Employers of the deadline to file for Fiscal Year 2016 H1-B Visas is right around the corner. The USCIS will start accepting petitions on April 1, 2015.
Our attorneys are currently meeting with Employers wanting to sponsor professional workers for H1-B status. (Link)
The basic requirements to qualify for the H1-B visa are the following:
•Have a Bachelor's degree or Masters Degree (or foreign equivalent degree from employee's country) or
•12 years work experience in the filed he or she will be working, or
•A mix of further education and work experience
•The position for which the candidate will be hired must be a Professional Specialty Occupation requiring at the very minimum a Bachelor's degree in the specialized field, i.e. Engineering, Accounting, Sciences, and Education.
-Frequently Asked Questions
Change of Status
If the candidate is an F-1 student can our company petition for a Change of Status (COS) to H1-B while having he or she remain working in the United States?
•Yes, as long as the candidate meets the minimum education/work qualifications and can remain in lawful nonimmigrant status (i.e. Optional Practical Training "OPT") until October 1, 2015 when the H-1B can legally take effect, the candidate can remain in the U.S. without having to return for inspection at a foreign U.S. Consulate.
•If the individual is under the following Nonimmigrant Visa categories at the time of consideration for hire, he or she may also potentially qualify to Change Status:
oE-1/E-2 treaty visa
oL-2/H-4 dependent visa
oJ-1 exchange visitor visa
oTN/E-3 visas
H-1B Overseas Consular Processing
What if the candidate is residing overseas, can they still qualify for the H1-B Visa?
•Yes, but the H1-B visa petition would first be filed locally at the USCIS, and subsequebt to approval a consular interview would need to be scheduled at the U.S. consulate in the candidate's home country sometime shortly prior to or after October 1, 2015 before their start date.
How far back do I need to start the H1-B Visa process?
•Recently, more employers have hired a large number of foreign nationals. Last year, the cap was met in as quickly as five days. It is expected that a greater number of petitions will be filed this year. It is important that you contact our attorneys as soon as possible to get you started with the process.
To insure the chance of securing and H1-B visa, contact our attorneys located in San Jose, San Francisco, or Pasadena. Once the 2015 H1-B quota is met, the petitioning companies will have to wait until April 1, 2016 to file for the H1-B petition again.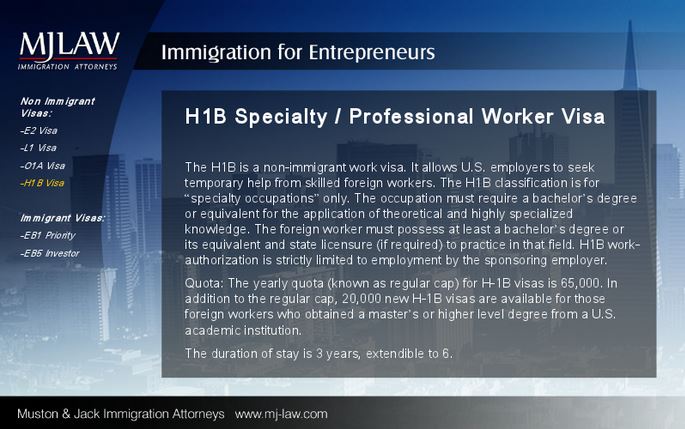 For more information about the H1-B Visa please read the following blog.
Don't wait until the last minute, contact us now.
Immigration Blog & News
Although it is common these days to hear in the media and in political discourse the idea that immigration harms the US economy and reduces wages and job opportunities for native-born workers ...

Foreign nationals possessing extraordinary ability in their field of expertise may be eligible for an employment-based, first preference visa.