Encuesta en Arizona le da 2 puntos de ventaja a Barack Obama sobre Mitt Romney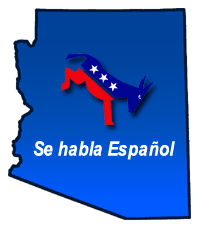 ¿Arizona, se podría convetir en un Estado Demócrata? Una encuesta publicada este Sábado, 13 de Octubre de 2012, parece arrojar resultados sorprendentes que podrían inclinar la balanza en estas elecciones Presidenciales, más de lo imaginado.
La casa encuestadora "Behavior Research Center" publicó un reporte en el que las encuestas sitúan al Presidente Barack Obama, dos puntos porcentuales por encima de su rival republicano, Mitt Romney. Esto, es un resultado totalmente inesperado especialmente para un estado conocido por su política anti-inmigrante y que le a hado todo su apoyo a Mitt Romney y a los conservadores de línea dura. El común denominador es concluir que Arizona es un estado conservador.
Pero, sorpresivamente y a diferencia de las demás casas encuestadoras que le dan a Mitt Romney hasta diez puntos porcentuales por encima del Presidente Obama, esta encuesta fue realizada tanto en inglés como en español. La mayoría de las encuestas se realizan en inglés y los resultados obtenidos, no incluyen al sector latino. Esta encuesta podría revelar que existe una enorme población que no ha sido tomada en cuenta para los conteos y las encuestas y que tiene relegada a la población latina a un segundo plano por su escasa participación en la política. Esto, de pronto, puede cambiar si los latinos acuden a votar masivamente puesto que se puede convertir de pronto, en un sector con mucho mayor poder político y que puede tener muchísimo impacto en las elecciones presidenciales y en el futuro del estado.
Así, si los latinos de Arizona muestran su músculo político y acuden a votar, bien se pueden convertir en una fuerza que no sólo le daría una victoria a Obama en Arizona, sino que cambiaría drásticamente el papel que juegan los latinos en un estado mayoritariamente republicano, quienes por medio de sus representantes, pueden moldear las futuras políticas estatales ya sea educativas y de empleo que beneficiarían enormemente al sector latino y otras comunidades minoritarias.
Immigration Blog & News
Although it is common these days to hear in the media and in political discourse the idea that immigration harms the US economy and reduces wages and job opportunities for native-born workers ...

Foreign nationals possessing extraordinary ability in their field of expertise may be eligible for an employment-based, first preference visa.