Additional Guidance for Same Sex Spouses Seeking Immigration Benefits After DOMA's Demise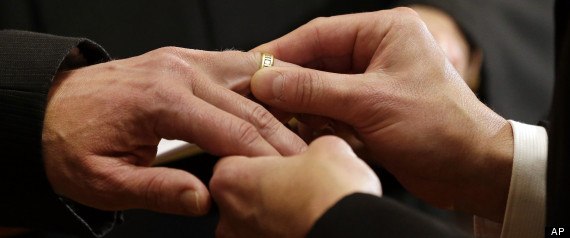 AP Photo/Patrick Semansky
Since the fall of DOMA, many attorneys are busy helping same sex spouses navigate the process of obtaining immigration benefits, our office included.Given the tremendous number of laws and regulations involved, it is important to seek professional advice when applying for a spouse's green card.Luckily, U.S. Citizenship and Immigration Services (USCIS) has released new guidance specifically for same sex couples.The following statements are highlights from the USCIS Frequently Asked Questions fact sheet for same sex couples:
1.U.S. Citizens or Lawful Permanent Residents (green card holders) in same sex marriages to foreign nationals can now sponsor their spouses for family based immigration visas by filing a Form I-130 along with an applicable accompanying application.
2.U.S. Citizens engaged to be married to foreign nationals of the same sex can file fiancé or fiancée petitions for their spouse by submitting a Form I-129F.
3.Same sex couples married in a U.S. state or foreign country that recognizes same sex marriage, but currently living in a state that does not recognize same sex marriage, can still file an immigrant visa petition on behalf of the foreign national spouse because the law of the place where the marriage was celebrated is used for immigration purposes.
4.Same sex couples are eligible to apply for immigration benefits immediately and do not have to wait for specific regulations or guidance from USCIS.
5.Any marriage based immigration petitions submitted while DOMA was still good law and denied solely because of DOMA will be reopened by USCIS at the request of the petitioner.Petitioners may notify USCIS by email at USCIS-626@uscis.dhs.gov that they wish to reopen a marriage case.If the denial of your I-130 petition occurred prior to February 23, 2011, you must notify USCIS at the above email address that you wish to reopen your case by March 31, 2014.Reopening any 1-130 petition also reopens any concurrently filed petitions, such as applications for work authorization or applications to adjust status to that of a legal permanent resident.No additional fees are required to request a reopening of a marriage based case.
6.Same sex marriages are now treated exactly like opposite sex marriages for immigration purposes.This means that same sex marriages can reduce the naturalization period from five years to three years for qualifying couples.Status as a spouse can also help one obtain certain inadmissibility waivers that were previously unavailable to same sex couples.
It is important to remember that, although DOMA no longer presents an obstacle for same sex couples seeking immigration benefits, marriage based cases are complex and professional advice is exceedingly helpful to ensure that petitions go as smoothly as possible.At MJ Law, we have experience assisting many couples from different walks of life with proving the bona fides or good faith of their marriage.Contact an MJ Law attorney to set up an appointment and get started on document collection and marriage based immigration applications.
Immigration Blog & News
Although it is common these days to hear in the media and in political discourse the idea that immigration harms the US economy and reduces wages and job opportunities for native-born workers ...

Foreign nationals possessing extraordinary ability in their field of expertise may be eligible for an employment-based, first preference visa.