H1B Visa Applications for Fiscal Year 2015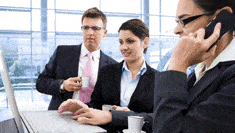 H1B Visa for Fiscal Year 2015 Overview:
H1B is the Non-immigrant worker status that is made available to U.S. companies to hire individuals from foreign countries to fill professional level jobs.
Only 65,000 visas are issued every year (known as "H1B Cap") during the government fiscal year which runs from October 1st, to September 30th each year.
What is a Fiscal Year?
Fiscal Year is defined as the legal 365 day period of time that the Government uses for all Federal and Fiscal operations. The fiscal year 2015 starts on October 1, 2014 and will end on September 30, 2015
H1B Visa Applications for Fiscal Year 2014: The Cap has been Reached.
There are no more H1B cap subject applications available for FY 2014. The next FY Season is FY 2015 and new applications can be submitted starting April 1st, 2014.
Individuals holding professional degrees, such as Bachelors' or the equivalent to one typically earned in the United States, Masters or PhD and who also have a US job offer in a specialty career. For individuals with Master's degrees earned at an American university, there is an additional 20,000 visas that are issued under a separate quota. Although companies are given the opportunity to reserve the visas for their prospective employees beginning April 1st of every year, the first issuance of H-1B status for FY 2015 does not actually take effect until October 1st of 2014.
USCIS Update: Number of Available H1B Visa Cap for Fiscal Year 2014 as of June 12, 2014:
| Cap Subject Visas: | H1B Applications filed: | H1B Applications available: |
| --- | --- | --- |
| 65,000 General Cap | 65,000 | 0 |
| 20,000 US Masters Exemption | 20,000 | 0 |
Filing for First-Time H1B Visa Status for an Employee Already Living in The United States:
If the employer is filing an H1B visa for an employee who is already in a non-immigrant status (i.e. J1, F1, TN, O, P, etc.), it is important to know that the H1B status does not become valid until October 1st, 2014. It is imperative that the employee's expiration date of their current non-immigrant status doesn't take place before October 1st, 2014. Otherwise, the employee will have to change their status to another non-immigrant status while waiting for the H1B visa to become valid, or travel to their country of origin within the required time period of their existing visa status and have their visa issued at their US Consulate or Embassy.
Extension of Optional Training Program for Qualified Students with STEM Degrees and E-Verify Enrolled Companies:
Qualified F1 visa holders can extend the period of their OPT (Optional Practical Training) from 12 to 29 months for those students with a degree in science, technology, engineering, or mathematics (STEM) who are employed by businesses enrolled in the E-Verify program.
The rule also addresses situations in which an F1 student's status and work authorization expires before he or she can begin employment under the H1B visa program. The interim final rule addresses this by automatically extending the period of stay and work authorization for all F1 students with pending H1B visa petitions. The rule will also implement certain programmatic changes, including allowing students to apply for OPT within 60 days of graduation.
Filing for H1B Visa for an Employee Living in Another Country:
If the employee currently lives in another country (such as India, China, Germany, etc.), the H-1B case will be filed in the US and if it gets approved, the USCIS will issue an approval notice that has to be sent to the employee to their country of origin and get their visa stamped on their passport at their local US Consulate or Embassy. The effective date of travel must be on or after October 1st, 2014.
Filing for H1B Visa for an Employee Currently Present in B1 or B2 Status:
If the potential employee is currently in the United States in B1 Business Visitor Status or just B2 Visitor Status, extra precaution must be taken in order to ensure that the Service does not conclude that the individual arrived in the United States with the specific intent to change his visa status. There is a list of permissible activities one can partake while in the United States in such status.
Employer's Compliance with H1B Visa Regulations and Wages:
An employer who petitions a nonimmigrant worker must comply with certain conditions and regulations. For instance, the petitioning employer is responsible to pay the "prevailing wage" salaries of their H1B employees until they are officially released from its payrolls.
For the entire time in which an employee is on the company payroll, and the company fails to release him or her, the company is required to continue to pay the prevailing wage as per the Labor Condition Application ("LCA") that they attest to in the H1B filing.
There are other regulatory requirements for Petitioners who release their H1B employees prior to the LCA's expiration. Should your Human Resources management have any questions with respect to such compliance requirements, feel free to contact Attorney Gabriel Jack .
If you need more information about the H1B visa, the process and FAQ, you can read more here.
"Helping you to obtain the right visa, when you need it"
When you contact our firm for an initial consultation, we will take the time to educate and explain the immigration laws, regulations and the visa application procedures of the USCIS (U.S. Citizenship and Immigration Services, formerly known as the INS or Immigration and Naturalization Service). As a client, you will work directly with an experienced attorney who will be able to answer any questions you have and keep you informed and aware of new developments as your case moves forward.
For all of your legal immigration needs, contact the immigration lawyers of Muston & Jack, P.C., at our San Jose or Los Angeles California law offices to schedule an initial consultation.